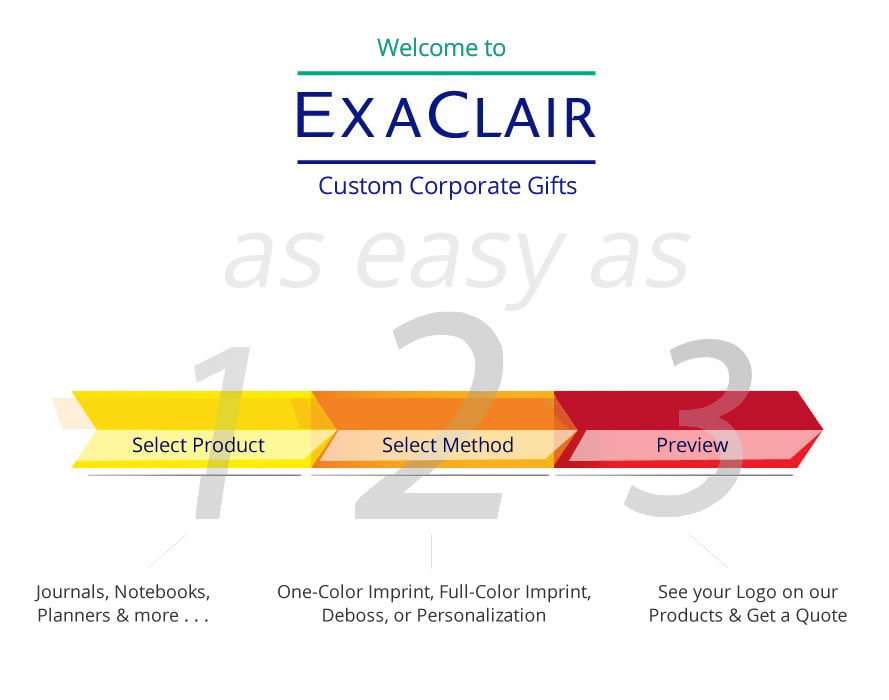 How To Use This Site
Select a product. The product categories include Journals, Notepads & Notebooks, File Folders and Planners.
Select a customization method. You can choose Full-Color Printing, One-Color Imprint, Deboss or Personalization.
Upload your logo, name or artwork.
Press the button to view your selected customization method applied to your uploaded artwork (especially important with One-Color Imprint and Deboss).
Request a Quote. An Exaclair representative will contact you by phone or email within one business day.
FAQ - Frequently Asked Questions
What is the minimum order for a customization?
25 pieces for One-Color or Full-Color Printing; 100 for Debossing and 1 piece for Personalization.
How long is your turnaround time?
We will send you a quote within one business day indicating how to place your order. Once the proof is signed off, it takes five to eight business days for your customized order to ship.
Is the Preview the proof you will use?
No, it is only a low res digital proof to help you visualize your logo/name on the product. After you place your order and send us your artwork file, we will send you a final, high quality proof for you to double check and approve.
I do not see the item I want!
We have many additional products that can be customized. Please find the product name and reference number in our Catalog page at www.exaclair.com/catalog.php.
I would like to add pages with our company information and messages at the beginning of the journal.
We can add pages at the beginning and at the end of the journals with your text and art work. Use the Comments box of the Request a Quote page to describe what you need.
I want to order several items but use the same logo.
If you wish to use the same logo for more than one item, send us your request for one and enter your other selection(s) and quantities in the Comments box of the Request a Quote page. Minimum per item is 20 when same die will be used.
I would like our logo on the front cover and our web site on the back.
An imprint or deboss can be added either on the front or on the back cover for most of the items. If you wish to have a different imprint/deboss on the cover you had not selected in the Preview, tell us so in the Comments box of the Request a Quote page.
Can I get a sample before ordering?
We cannot provide a sample with customization, but you can order a specific product or products. They can be purchased at a discount, plus shipping charges. The cost of the sample will be deducted from your final customization invoice if you place an order within 30 days of receipt. Please email sales@exaclair.com to get ordering instructions on www.paperbistro.com.
If you have questions, write to sales@exaclair.com